Nonfiction Book Reviews
* * *

Regency Fiction
* * *

Historical Facts
* * *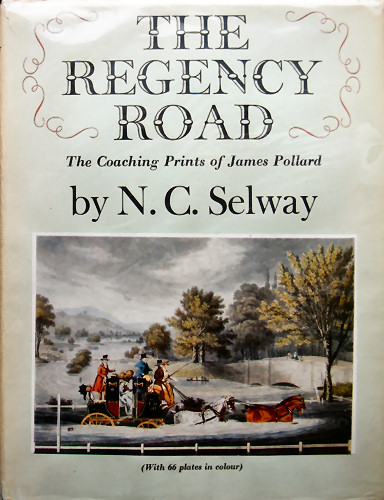 Title: The Regency Road - The Coaching Prints of James Pollard; With an introduction by James Laver, Keeper of the Department of Engravings and of Paintings at the Victoria and Albert Museum, London.

Author: Neville Carr Selway and James Laver
First published 1957 in London by Faber & Faber Limited.

ISBN: N/A

118 pages, illustrated with 66 color plates.
Excerpt (Plate 1):
Until 1784 the mails had been carried by postboys on horseback. In that year the Bristol Mail, conveyed by the first of the Royal Mail coaches, was inagurated, soon to be followed by others to all parts of the country. Eventually over 180 services were in daily operation in different parts of the British Isles, and the system continued with growing efficiency until 1838, when an Act of Parliament was passed authoirizing the first conveyance of mails by railway. Not until 1840, when the penny post was introduced, did correspondence become other than an activity of the well-to-do classes, for postage rates were high, and many long-distance letters cost a shilling or more to send.

Changing Horses to the Mail Coach is the first of four prints after James Pollard illustrating this familiar scene on the road. There seems to be a leisury air about the proceedings on this occasion, but in later years the normal quick change was done in less than two minutes, and during some record runs in as little as forty-five seconds.
Review
Before trains, planes and automobiles there were horse drawn carriages to take you from place to place. The coaching trade reached its pinnacle during the Regency era, to soon after fade as yesterday's snow with the rise of the Victorian railroad. The Regency was the great time of change, straddling the old feudal agricultural system and the new industrial age. Nowhere is this more apparent than in the coaching.

This book is not only filled with fantastic prints that make the Regency come alive for us, it also contains a vast amount of information regarding travel and life on the road in this exciting age. The prints span the time from 1815 to 1842 and depict a host of conveyances of the era, both private and public. The introduction gives a general overview of the British roads from Roman times to the dawn of the Victorian era. If any book deserves a reprint it's this one.
Index

Contents
Illustrations
Author's Preface
Acknowledgment
Introduction: The Great Age Of Coaching
James Pollard
Aquatint Engraving
Plates Listed Under Their Engravers
Bibliography
Plates
Index