Nonfiction Book Reviews
* * *

Regency Fiction
* * *

Historical Facts
* * *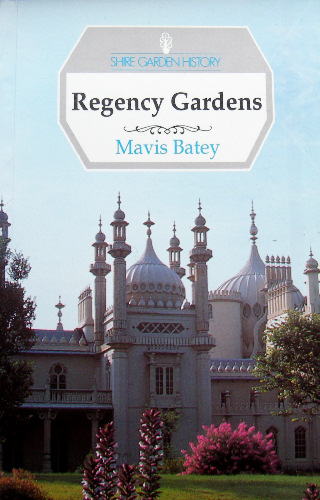 Title: Regency Gardens - Shire garden history series #7

Author: Mavis Batey
First published 1995 in Great Britain by Princes Risborough (Bucks.) : Shire Publications Ltd.

ISBN: 0747802890, 9780747802891

96 pages; lavishly illustrated with photos as well as period drawings and paintings in both color and bl&w
Excerpt (Introduction):
Eighteenth-century taste was aristocratic, sanctioned by such arbiters as Lord Burlington, Addison, Pope, Hogarth and Burke. Regency taste was more flexible and intuitive and embraced a much wider and more democratic society. In place of pediments, porticoes and Palladian stairways, Regency houses had striped canopies, verandahs, balconies and ornamental ironwork and, as an accompaniment to the light playfulness of the architecture, more 'dressed' grounds near the house, with sinuous shrubberies, flowerbeds, trellis and ornate garden seats. Garden design no longer depended on extent of property for effect, as in the days of 'Capability' Brown, and estate priorities had to be reassessed to meet the cost of living in the Napoleonic Wars and increased taxation.
Review
Gardens became increasingly important in the Regency era. The typical open landscape garden we today refer to as an English Garden fell out of favor and people once again discovered flowers! Humphry Repton was the garden designer in the forefront of the movement; turning open lawns into garden 'rooms' through the use of shrubs, thickets and herbaceous borders. All was laid out in a pleasingly manner reminiscent of classical paintings, the pinnacle of the cultivation of the picturesque.

This and much more we learn from Mavis Batey's discourse in Regency Gardens. She manages on a scant ninety-six pages to cover her subject well. We discover Nash, the premier architect of the day, and follow along the building of the Brighton Pavilion, visit the gardens of stately homes, such as Mount Edgcumbe and Drummond Castle, view the development of Regent's Park, the seaside squares at Kemp Town and the layout of the first public park. All this lavishly illustrated with paintings, old photographs, drawing and etchings that makes the period come alive.

If you want an overview of the movers and shakers of the time, the most influential gardening literature and the best examples of the style picturesque that dominated the Regency era, this is the book for you. The text is more geared toward those with an interest in gardens and gardening, while the many illustrations makes the book accessible to all.
Index

Introduction
Regency Architecture
Rural residences and ornamental gardening
Sylva Florifera: ornamental shrubberies and specialised gardens
The Royal Pavillion and the cult of the exotic
Regency town planning
Loudon and the wind of change
Further reading
Some Regency sites to visit
Index