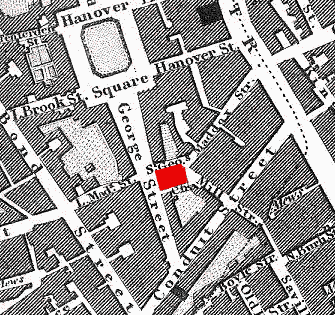 A map of Mayfair. The red square is St. George's church 3
St. George's Church is centered right in the middle of Mayfair, in Regency times The place to live when in Town. The church is situated on the quiet George's Street, off Conduit Street and just a step from Bond Street and not in Hanover Square proper. The Parish of St George was created in 1725 and covered an area that stretched from Regent Street (then called Swallow Street) to the Serpentine, and from Oxford Street to Mayfair, Belgravia and Pimlico. So St. George's was the Parish church of most of the Ton.
St George's was built as a result of an Act of Parliament that stipulated that fifty new churces were to be built in London. The whole was financed by a tax on coal, which must have been wildly impopular at the time. John James was the architect, a pupil of the much better known Christopher Wren, who built the church on a shoestring budget, as churches go, of £10,000. In February 1721 they began dig the foundation, the building was finished by March 20, 1725.
Just three days later, on March 23th 1725, the church was dedicated by the Bishop of London.

According to the Marriage Register the first wedding in St George's took place on April 30th, 1725. Robert Hodgson, an ancestor of Queen Elizabeth II, was the rector of the church for the Regency period, he served there from 1803-44. a
St George's has been considered a fashionable church almost from its beginning and it's popularity kept rising until it hit about 1,000 weddings a year in Regency times. The record was set in 1816 with 1,063 weddings, about three a day, making St George's a Regency equivelent to a Las Vegas Wedding Chapel! It was still a fashionable wedding church 76 years later when Sir Arthur Conan Doyle (in 1892) published his hillarious "The Adventure Of The Noble Bachelor" b about the noble lord who's marriage at St George's, Hanover Square didn't end as anyone had expected.