Nonfiction Book Reviews
* * *

Regency Fiction
* * *

Historical Facts
* * *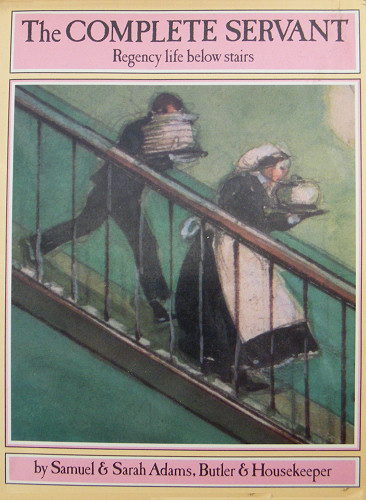 Title: The Complete Servant: Regency life below stairs

Original Title: The complete servant; being a practical guide to the peculiar duties and business of all descriptions of servants : from the housekeeper to the servant of all-work, and from the land steward to the foot-boy ; with useful receipts and tables.

Author: Samuel and Sarah Adams, Introduction by Pamela Horn
First published 1825 in London by Knight and Lacey. Reprinted 1989, 1993 and 2000 by Southover Press

ISBN: 1870962095, 9781870962094, 1870962036, 9781870962032

180 pages, illustrated with bl&w line drawing.
Excerpt (Editor's Note):
For a first-hand account of backstairs life in the late eighteenth and early nineteenth centuries, The Complete Servant is hard to beat; it is a mine of information. First published in 1825, it was the most comprehensive and influential book of its kind and started off a rash of imitations. Some, like The Servant's Guide and Family Manual, published in 1930, followed the same successful formula. Although The Complete Servant has been often quoted and many times referred to it was not, for some reason, reprinted. Without doubt its popularity and that of its imitators led to the publication of Household Management by Isabella Beeton a generation later in 1861.

The Complete Servant is unusual in that more than half the job descriptions in it are for men. The daily rounds of the Butler, Land Steward, Valet, Grooms and Gardeners are described in detail. The work of the Butler as cellarman, and the necessary office of the Groom as Vet, are here. Only the Man Cook, whose duties seem to be outside the experience of the authors, is given a somewhat cursory treatment.
Review
Ever wondered how Regency households were taken care of? Or what a housekeeper actually did? What was the wages for a governess, really? How necessary was the butler and had valets and lady's maids the right to be as toplofty as in popular fiction? Those questions and a host of others are thoroughly answered in this book, including many regarding Regency life in general.

It describes in detail how to shop, cure horses, clean, cook and carry out the many other daily chores in a well run establishment. It even has recipes and not only for food and other edibles but, also, for household items such as polishes and detergents, soaps and candles, even face creams.

The introduction by Pamela Horn gives a nice overview of living conditions and domestics, while the dedication chapter details what servants different sizes of households and yearly incomes could support. For instance, it seems the minimum income to keep even one servant was £100 for a single person and £150 for a couple, which gives a good reference point when reading in Jane Austen's Pride and Prejudice where Mr. Bennett says "No man in his senses would marry Lydia on so slight a temptation as one hundred [pounds] a year during my lifetime and fifty after I am gone." Only an independently wealthy man could afford her.

This book is written - and intended - as a reference manual and admirably lives up to that purpose. It's so thorough even a modern person wouldn't make a total hash of handling a household if suddenly transported back in time. If you want reliable information on life below stairs in the Georgian era this is the book for you.
Index

Acknowledgements
Sources of Illustrations
Editor's Note
Introduction
Original Preface
Dedication
Advice to Servants in General
Housekeeper & Still Room Maid
The Cook, The Kitchen-Maid and The Scullion
The Lady's Maid
Head Nurse, Under Nurse, Nusery Maid and Governess
The Upper House Maid and Servant-Of-All-Works
The Laundry Maid, Dairy Maid and Chamber Nurse
The Land Steward and Bailiff
The House Steward and Steward's Room Boy
The Butler and Under Butler
The Valet
The Man Cook
The Footman, Lady's Footman, Under Footman and Hall Porter
The Coachman, Lady's Coachman and Under Coachman
The Groom, The Postillion, The Outriders and The Stable Boy
The Head Gardener and Under Gardener
The Servant's Hall
Index