Nonfiction Book Reviews
* * *

Regency Fiction
* * *

Historical Facts
* * *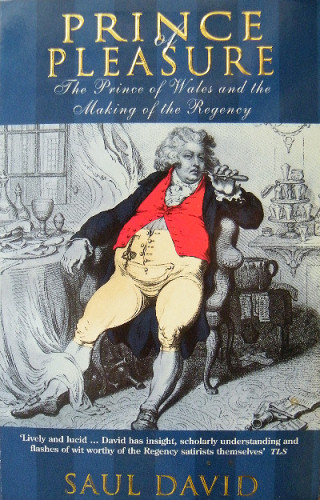 Book Details
Title: Prince of Pleasure - The Prince of Wales and the Making of the Regency

Author: Saul David
First published 1998 in Britain by Little, Borwn and Company. Reprinted several times; this edition 1999 by Abacus.

ISBN: 0316646164, 9780316646161, 0871137399, 9780871137395, 0349110875, 9780349110875

496 pages, 12 pages of plates, illustrated.
Excerpt (prologue):
The enduring image of George IV is that of 'Prinny', the overweight, overdressed and oversexed buffoon waiting for his periodically deranged father to be declared unfit to rule. This was how he was portrayed in contemporary prints and, more recently, in the TV series Blackadder and the film The Madness of King George. But like many popular images, it ignores the more serious side of his character. Given his predilection for pleasure, it is probably no coincidence that his last achievements were nearly all cultural. The Regency in its widest sense (1800-1830) is remembered today as a devil-may-care period of low morals and high fashion. It was also, thanks to his patronage, a time of great cultural fertility. Probably no monarch in British history has had a more positive influence on so many areas of cultural life: fine art, sculpture, architecture, literature, music and even science.

The prediction made by his preceptor, the Bishop of Coventry, in 1777 - that his young charge might develop into a combination of 'the most polished gentleman' and 'the most accomplished blackguard in Europe' - proved to be remarkably accurate.
Review
It's not that often a biography reads as a novel but this excellent biography over the Prince Regent and future king George IV is such a book. There's no stinting on the research, I noticed few factual errors, the references are well documented yet the book isn't heavy going as one might imagine.

From his sterile upbringing to his heyday as Prince Florizel, his illfated marriages to finally fulfilling the ambition of being crowned king, David paints a rather sympathetic portrait of the erratic monarch; a man larger than life in more ways than one. Yet not only Prinny but the whole gallery of notable people of the Regency era waltzes across the pages - the political powers (Fox, Pitt, Wellington) and those socially prominent (Brummell, Barrymore, Lady Jersey & her fellow Almack's patronesses).

I recommend this book for anyone wanting an overview of the life and times of Prinny, the most notorious Prince of Wales Britain has ever seen. Even if you usually don't read nonfiction, give this book a shot. I couldn't put it down!
Index

Aknowledgements
Prologue
A Dissipaged Youth
Into Opposition
Mrs Fitzherbert
The Mad King
Rakes and Revolutionaries
Caroline of Brunswick
A Royal Separation
The Reversionary Interest
The Delicate Investigation
Minney and Prinny
The Restricted Regency
The Two Princesses
The Milan Commission
The Queen's Trial
Blackguard or Gentleman?
Chapter Notes
Bibliography