Nonfiction Book Reviews
* * *

Regency Fiction
* * *

Historical Facts
* * *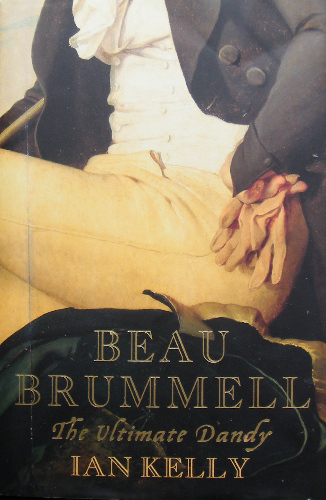 Title: Beau Brummell: The Ultimate Dandy

Author: Ian Kelly
First published 2005 in Great Britain by Hodder and Stoughton.

ISBN: 0-340-83698-9

578 pages, 60 illustrations in color and b&w.
Excerpt:
On June 17 1778 a fair-haired boy was born in Downing Street. He was given the name George Bryan and his name completed the family of three children born to Mr and Mrs Brummell in quick succession. His mother almost certainly endured her confinements at the apartments above No. 10 and No. 11 Downing Street, as George was baptised on July 2 at St Margaret's, Westminster, the parish church of the House of Commons. The Brummells were still living in Downing Street two years later. The inclusion of 'Bryan' as the middle name for their third child, an unusual name for the period, and the Irish spelling, is unaccounted for. There is no other record of 'Bryan' used as a Christian name in the entire weighty vellum tome in Westminster Abbey in which George's baptism is recorded. However, the name features once as a surname: in May 1772 a John Bryan was baptised, a son to one Joseph Bryan. This was the same year as that Billy and Mary Brummell married. Joseph Bryan might well have been a Westminster civil servant, a colleague of Billy. George's older sister Mary is not entered; neither, indeed, is there any record of their parent's marriage. George's elder brother, born 30 January 1777, does appear in the register. He was christened, by family tradition, William. Maria, William and George Bryan shared a nursery at Downing Street with the children of Lord North - only a few hundred yards from Bury Street, but in every social sense an enormously long way from the class of new London immigrants to which their grandmother belonged.
Review
After prologue, introduction and assorted other preliminaries is the Beau finally born on page 48. I would wish to say that from now on this is a gripping tale impossible to put down, but I would lie. There is no doubt this biography over George Bryan 'Beau' Brummell is well researched, filled to overflow with detail and period information. Unfortunately the minutiae overwhelm the biographic aspects to the point I felt Brummell himself is rather incidental to the book and lost among an orgy in history research. Harsh, I know, but a severe disappointment when compared to Captain Jesse's 1844 biography "The life of George Brummell, Esq., commonly called Beau Brummell," which, for all its age and Victorian moralizing, is still an entertaining read; bringing the witty dandy to life once again to charm a new audience.

Although missing its mark as a biography, the book is extensively sourced throughout - in fact, the most fun is found in the notes on the text! - is well indexed and will appeal to those who wishes for a detailed account of society life in the Regency era. Unfortunately, if you were looking for an intimate portrait of the premier dandy of all time to listen to his clever bon mots, you won't find him here.
Index

Author's Note
Prologue
Introduction: Dandi, Dando, Dandum

Part I: Ascendancy 1778-99
Blessed are the Placemakers, 1778-86
These are not Childish Things: Eton, 1786-93
The World is a Very Uncharitable Place: 1793-4
The Prince's Own, 1794-9

Part II: 'A Day In The High Life' 1799-1816
Morning
Dandiacal Body
Sit Itur Ad Astra: Bespeaking the West End
Afternoon
A Ride on Rotten Row
The Dandy Clubs
Evening
Theater Royal
Seventh Heaven of the Fashionable World
No More A-rowing so Late into the Night
The End of the Day
Play has been the Ruin of Us All

Part III: A Man Of Fashion, Gone To The Continent 1816-40
Roi de Calais, 1816-21
Male and Female Costume and Other Works, 1821-9
Hi Britannic Majesty's Consul, 1830-2
Hotel d'Angleterre, 1832-5
Prison, 1835-9
Asylum, 1839-40

Epilogue
Acknowledgements
Picture Acknowledgements
Bibliography
Notes
Appendix: Chapter-title Illustrations
Index