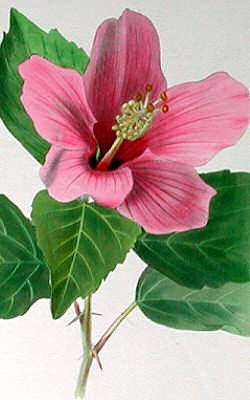 Tropical Hibiscus is a Lilibiscus!
The first hibiscus of the lilibiscus section to make it to the Western world was the double red. This is the variety described by Rumphius (Georg Eberhard Rumpf, 1628 - 1702) and van Rheede (Hendrick Adriaan van Rheede tot Draakenstein, 1637 - 1692), although neither is known to have shipped any plant material to Europe, and subsequently named Hibiscus rosa-sinensis by Linnaeus (Carl von Linné, 1707–1778) based on herbarium species. Lilibiscus of the other species in the group, showing single (5 petal) flowers, were unknown in Europe at the time.
Whether the fancy hibiscus really is a native of China as its Latin name Hibiscus rosa-sinensis (rosa-sinensis = Chinese Rose) suggests, or not, we do not know. Some says it comes from India, others Malaysia, or any of the many islands in the Indonesian group. Certain is that H. rosa-sinensis is a tropical plant that people in temperate zones can only grow indoors. Fortunately for us, hibiscus is an excellent potted plant that thrive in room temperature and over a hot radiator in the winter, as it almost appears to want warmth more than light.