Hibiscus like the conditions that appeal to people thus these tropical plants are well suited to be grown indoors. Growing hibiscus in pots is not too difficult if you follow a few simple rules. Potted hibiscus can become very old, forty years or more is not that rare. Below is a short course in indoor hibiscus care. These tips are most suitable for people in Northern regions but can be applied elsewhere where indoor culture is necessary.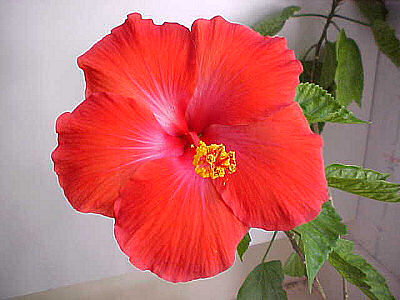 Hibiscus rosa-sinensis 'President'
Placing
Hibiscus are tropical plants that need light and, perhaps more importantly, warmth to thrive. They prefer moderate heat and to continue blooming must have a few hours of direct sunshine every day. Place your plant in a bright South or West facing window. An Eastern window might also work. In winter watch out for cold drafts that can give hibiscus frostbite. In the winter you also need additional light. I use simple fluorescent bulbs, often referred to as low energy light, which screw into regular sockets. For best effect, place the light as close to the plant as possible. In summer it is wise to protect the roots from excessive heat by using planters.
Watering
Hibiscus like water but do not let it stand with 'wet feet'. The soil needs to dry up between waterings to protect from root rot. Make certain no excess water remains in the planter half an hour after watering. Pay particularly attention to this for plants that are placed in a cool spot where the temperature stays below 60F (+16C). It's important to refrain from watering with cold water in winter. I always give warm water, 95-102F (+36-40C), during the colder months. Feel with the hand that the water doesn't get too hot.
Fertilizing